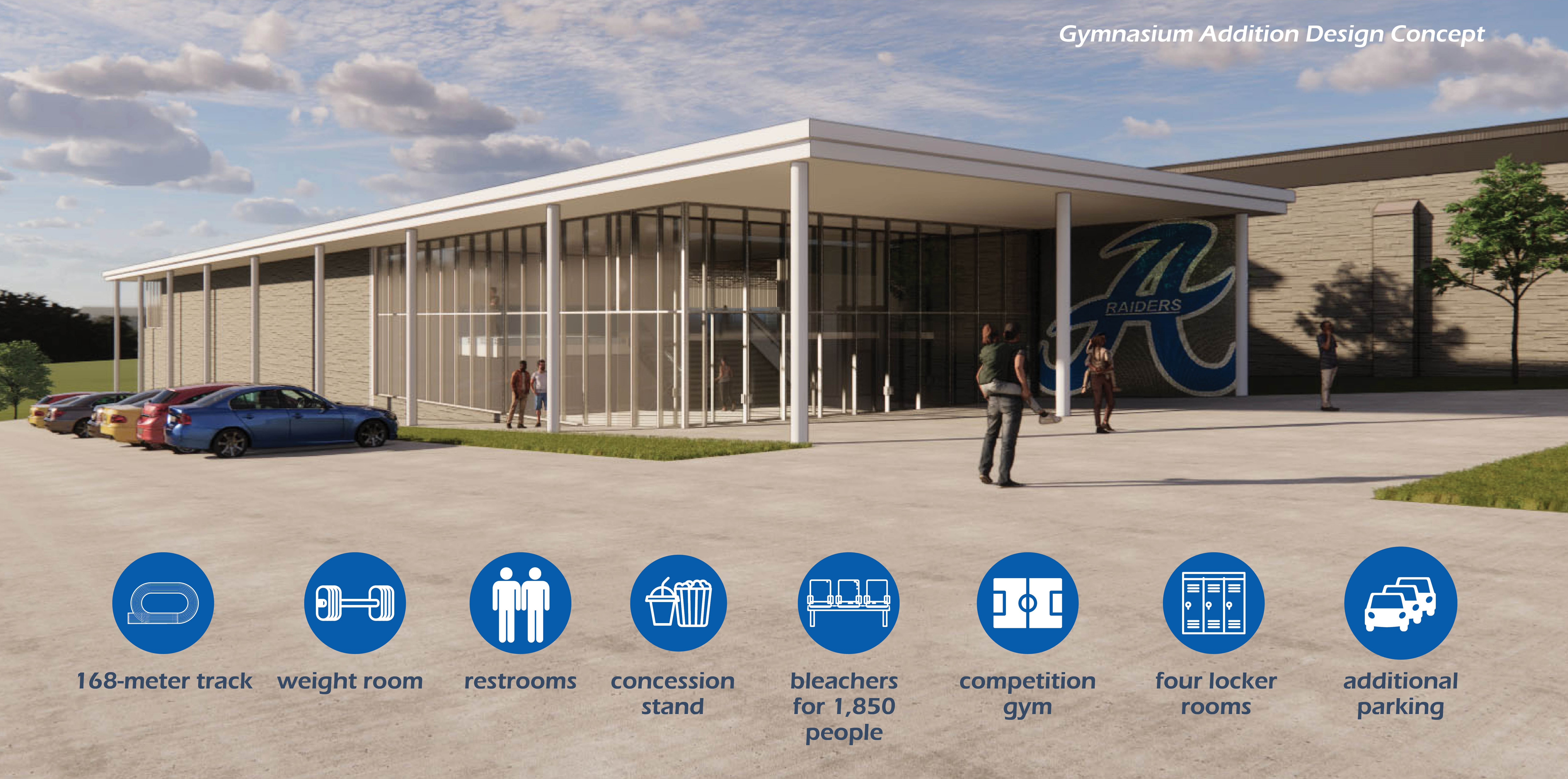 What Will Our New Project Entail?
A community-based committee selected key components to support our students and patrons.
Indoor Track
The 168-meter track will encircle the gym at the ground level.  The preliminary design calls for the track to have four lanes and utilize a track sports flooring that has a cushioned layer topped by a rubber surface.
Weight Room
The current weight room is around 50×80(4,000 sq ft.) The new weight room is projected to be 40×100(4,000 sq ft).  The new facility will be inside the building and not require going outside to access the weight room. 
Gym
A new high school competition gym will be built on the existing building's north side taking advantage of the sloping site. The design of the gym will address the deficit in ceiling height in the current gym.  The additional gym will allow for better scheduling of practice and aid in avoiding early morning and late evening practices.  It also allows for additional space for youth teams and activities. 
Parking
An additional parking lot will be created on the current practice field to the east of the building.  The increase in parking at the High School location is part of the plan to meet the parking needs of our students and spectators. 
Concessions
The plan includes a new concession stand that meets the needs of current events and will enable us to host larger events in the future. 
Restrooms
Additional restrooms will provide easily accessible facilities to accommodate large events.  All new restrooms will be handicap accessible. 
Bleachers
Bleachers with a capacity for about 1,850 people will descend down to the gym floor on the lower level.  The current gym has a capacity of about 1,000 but seats 750 comfortably. The additional gym and the increased seating capacity will enable Anamosa to host large events, including some state level contests.
Locker Rooms
The first floor will also include four locker rooms, which doubles the number of locker rooms available to our students and for large events.
Questions?
We'd love to hear from you and share our excitement!
Contact our planning committee:
Address
Email: hello@example.com
Phone: 800-854-5841