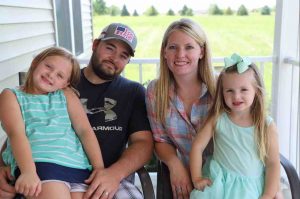 Name: Jordan Bickford
Job Title: Paraprofessional-Deaf, hard-of-hearing coach
How long have you been in the district? 5 years
What do you like best about the Anamosa Community? Small town community with big hopes and dreams! And amazing people willing to do whatever it takes to accomplish them.
What is your favorite part about your job? No matter what everyday I get a chance to help a child learn, grow, and smile.
Tell us a little about yourself: I'm 28 years old grew up in Anamosa and live in Anamosa with my fiancé Spencer and our two beautiful daughters Avery(7) and Emery(4). I love the outdoors and enjoy spending my free time hunting, fishing, and golfing.