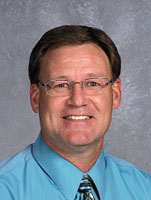 As a new member of the Anamosa Community School District, I thought it would be good to take this opportunity to give everyone a little background about myself.  First of all, my wife Lori and I are very excited to be in Anamosa.  We moved into town the last weekend in June and feel the transition has gone very well.   I have been an educator for over thirty years, and have had the pleasure to work in four other schools around the state, however, our move to Anamosa is somewhat of a homecoming for both of us.
From about age 3 to age 10, I grew up on our family dairy farm just outside of Morley, Iowa and attended Olin Elementary School.  At that time, Anamosa was where we shopped, took swimming lessons, attended movies, went out to eat and visited the doctor.  We then moved to Mechanicsville and I ended up graduating from what was then, Lincoln of Stanwood High School.  Lori is also a graduate of Lincoln, and her parents still live in Mechanicsville.  In fact, she was born at the Anamosa Hospital and their family visited Anamosa for various other things as my family had.
After high school, I attended William Penn College and graduated with teaching certifications in Industrial Technology and Driver's Education, as well as, a coaching endorsement.  I then taught and coached in Clinton for nine years, took a year off to work in industry and then returned to the education field in Camanche for two years.  During this time, I began my Master's program at Western Illinois University (WIU) and then became the assistant principal at Webster City High School for two years, followed by nine years as the building principal.  I completed my superintendent certification in December of 2009, also at WIU, and then became the Superintendent at Dike-New Hartford in 2011, where I spent the last seven years.
Throughout my career I have helped to develop various programs that have enhanced student learning opportunities for all students.  It is my plan to continue this type of work at Anamosa so all of our students reach their full potential and become successful, contributing members of our society.  To accomplish this, we will need the positive support of our parents, community members, business leaders, and politicians.  We will also need to make sure we provide the appropriate training and support to all of our school employees so they have the tools they need to move our students in the proper direction.  This can only be accomplished through working as a team towards common outcomes in an environment that is both welcoming and inviting and also challenging and rewarding for our students.
The teaching/administration staff in each building has been working hard this summer preparing for the school year through a number of different professional opportunities.  As an example; from July 17th through the 20th, we had 37 staff members taking part in a Professional Learning Communities (PLC) Institute in Madison, Wisconsin.  This was a tremendous learning experience where our staff members learned strategies to answer the following key questions:
1. What do we want students to know and be able to do?
2. How do we know if students have learned?
3. How do we respond when students don't learn?
4. How do we respond when students have learned?
"When a school or district functions as a PLC, educators within the organization embrace high levels of learning for ALL students as both the reason the organization exists and the fundamental responsibility of those who work within it."  (DuFour, DuFour, Eaker, Many, & Mattos, Learning by Doing (2016).  This is a critical concept for our Pre-K – 12 staff to develop as we move forward as an educational institution for the betterment of all students.
I look forward to the year ahead with anticipation that we will provide tremendous learning opportunities for our students.
Go Blue Raiders!!
Larry Hunt, Superintendent