Use the links below to find information to help you in and out of the AHS Library.
As you move your mouse over the picture you will see tabs pop up for links to what you need.
Phone # 319-462-3594 extension 1541

Click on the MackinVia link above and use your school Google account to login for access to Audio and eBook we have available from the GWAEA.
The AHS Teachers have challenged the AHS students to a Page Palooza to see who can read more books this school year. Click on the open book in the upper right corner of the Thinglink to enter the pages you have read and keep on reading.
Here are the results as of October 25th!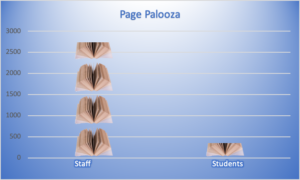 Do you have a book you would like to see on the library shelves – click here to see how to recommend it.
Mrs. Kane's schedule – Mrs. Kane will only be at the middle school this year. If you need anything you can email me or click on the microphone in the Thinglink above for instructions on how to check and post information on the AHS@209Library chat.
If you would like to collaborate with me to virtually teach your students reading, research, or technology skills – click here and fill out a short form. I will send you a calendar invite on when we can meet and we will come up with a plan for teaching!