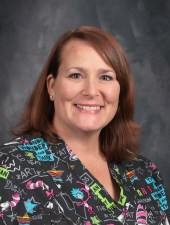 My husband, Chuck and I both graduated from Anamosa High School in 1988. After high school, I lived in Chicago for a year and was a nanny for 3 small children. I then attended the University of Iowa College of Nursing and received my Bachelor's of Science Degree in Nursing in 1994. While attending nursing school, I worked in a daycare center in the baby room and at the University of Iowa Hospital as a nursing assistant on a orthopedics and neurology floor. After becoming a nurse, I have worked part-time in two pediatric offices in Cedar Rapids from 1995-2000, and part-time at the Anamosa Family Practice office from 1998 to 2000. I then worked part-time at St. Luke's Birthcare Center in Cedar Rapids from 2000 to 2008 as a mother/baby and labor & delivery nurse. In 2006, I started my job at Strawberry Hill Elementary as the school nurse. Since 2008, I have also been working a few hours a week for doing in-home healthcare and respite for a special needs boy. I have worked in many areas of nursing, but feel that my job as a school nurse has been the best "fit" for me-it is great to have a job that I love!
My family lives on an acreage by Scotch Grove. We have a small farm and grow small fields of crops, and have chickens and goats. When I am not working, I enjoy spending time with my husband and our three daughters: Taryn who is currently a registerd nurse at St. Luke's in CR and is studying to receive her Bachelor Degree in Nursing; Taylor who is studying to become an Occupational Therapist at The University of Iowa; and Tori who is a junior at Anamosa High School. I stay busy attending my children's school and sport events, planting a large garden and reading.
I am certified to teach Cardiopulmonary Rescusitation (CPR)/ Automatic External Defibrillator (AED) and First Aid by the American Heart Association. I am a Facilator for the Darkness to Light Stewards of Children Sexual Abuse Prevention program.