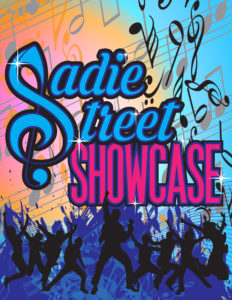 On Sat., Jan. 29, show choirs from around the state will descend on Anamosa High School to compete in the 6th annual Sadie Street Showcase. This year's competition features 9 show choirs from Iowa. Performances begin at 10:30 a.m. in the Ellen Kennedy Fine Arts Center, continue throughout the day and culminate with finals that begin at 6 p.m. The emcee is local talent Kevin Sims.
Anamosa's Sadie Street Singers do not compete but rather, they give an exhibition performance (approximately 9 p.m.) after all the finals groups have performed while the judges tabulate.
This year's co-chairs are Sara Breitbach and Amy Wheeler. The excitement and energy in the building on showcase day is unbelievable. Hundreds of students fill our high school with enthusiasm, love of music and lots of hairspray. It's really amazing!
We expect about 2,200 people to attend. We need a large number of volunteers to make this event function smoothly.  We simply can't do it without the support of parents and the community as a whole. Please consider signing up for a shift.
If you'd like to help, click here to see the signup for shifts.
https://www.signupgenius.com/go/sadie-street-showcase
We are very grateful to the district and building administration, our music directors, the Anamosa Athletic Boosters, local businesses, all the volunteers, and AHS building maintenance staff for helping us host the showcase. It takes a village but it is so worth it.
Admission is $12 for adults, $8 for students K-college and free for kids pre-K and under. Parking is in the main lot at the high school as well as overflow at the middle school. Shuttles run all day from the middle school to the high school. There is plenty of handicapped parking, both in the upper lot and by the auditorium.