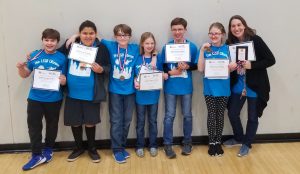 Two LEGO League teams from Anamosa Middle School, the Voodoo Engineers and The LEGO Citizens, competed in a regional competition on Saturday, Dec. 14 at Excelsior Middle School in Marion, IA.  The competition is comprised of a research project and robotics challenges, with the teams being judged on their project, their robot design and programming, and their teamwork.  The LEGO Citizens were one of the top six teams that day and qualified to advance to the state competition being held on Jan. 18 on the ISU campus in Ames, IA.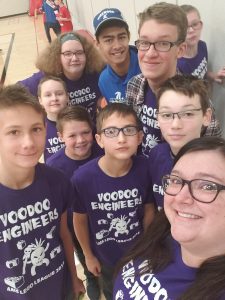 On Saturday, December 14th, The Voodoo Engineers competed at their regional Lego League competition at Excelsior Middle School. Led by their coach, Emily DeGroot, technology teacher at AMS, the Voodoo Engineers had the chance to show off all of their hard work. The competition has four main parts, the robot programming and challenge, the build of their robot, a research assignment and a team building challenge. The robot challenge went well, despite a few frustrations. The programming team scored 71 points during their challenge. The build of the robot judging also went very well. Macen Garrett, a 6th grader, led his programming and robot team to an extremely successful session with the judges. The programming and robot team is made up of Macen Garrett (6th grade), Gavin Sigler (6th grade), Andrew Green (7th grade), Braeden Keister (7th grade) and their captain, Morgan Mortensen (8th grade). The research team, made up of Reilly Shaw (5th grade), Parker Lasack (5th grade) and co-captains Dean Lambertsen (7th grade) and Cole Poling (7th grade), also had a lot to be proud of. Their project regarding urban sprawl wowed judges, and all of their hard work researching, practicing presentations, reaching out to experts and completing a model paid off. The team is most proud of their team building challenge this year and they were impressed on how well they worked together and communicated as a team.
Despite not placing in any categories, the Voodoo Engineers feel like they have had their best season yet and are looking forward to the future. Mrs. DeGroot, their coach, wants to thank all of the parents who helped support this season, as well as the Anamosa Foundation for funding this season when grants were not available. The Voodoo Engineers also want to share a huge congratulations to their co-team, The Lego Citizens, for advancing to state for all of their hard work this season. Thank you to all who support Lego League!