The Anamosa School Board is pleased to announce that Larry Hunt has accepted the offer to serve as the new district superintendent from a pool of 24 original applicants.  His hire will be official during Monday night's school board meeting.
Grundmeyer Leader Search presented all candidates to the board on Monday, April 23rd in closed session.  Based on application materials, objective ratings, reference calls and much discussion, the board decided to move 6 candidates forward as semi-finalists.  The board screened the six semi-finalists on Friday, April 25th and choose three candidates as finalists to interview with multiple stakeholders on Wednesday, May 2nd in the district.
Based on feedback from the interview teams it was clear that Larry was the right fit to move the district forward.  Upon accepting the position Larry said, "I am very excited to have been selected to be the next superintendent at Anamosa. My wife, Lori, and I are looking forward to becoming active participants in both the school and community.)
The board is looking forward to working with Mr. Hunt saying, "We were very pleased with the entire search process, quality of the candidate pool and feedback we received from the interview teams.  The data from all involved in the formal interview process made clear that Larry is the right fit to move our district forward.  We are excited to work with him and have him and his wife be part of our community."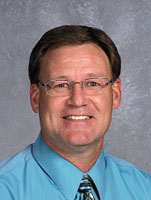 Larry Hunt- Larry has served the last 7 years as the Superintendent for the Dike-New Hartford School District. He grew up on a farm outside of Morley, IA.  He has lead Professional Learning Communities (PLC's) in multiple districts and currently serves on various School Administrators of Iowa committees. Prior to his superintendent role with Dike-New Hartford, Mr. Hunt served as the High School Principal for Webster City Schools where he was responsible for multiple programs that promoted student achievement gains, expanded opportunities for students and staff and encouraged teacher leadership.
Larry is a life-long learner that has the proven ability to lead a district.  His focus on student engagement, teacher leadership and compensation, STEM (science, technology, engineering and math), career and technical programs and professional development for teachers will be an asset to the Anamosa School District. His bachelor's degree is from William Penn (Industrial Technology) and his Master's and Specialist Degree is from Western Illinois University.
Larry is married to his wife Lori and together they have 3 children.  Their daughter lives in Ryan and both of their son's live in Cedar Rapids.
Larry will officially begin his duties on July 1, 2018.  Please welcome Larry to the district and community!