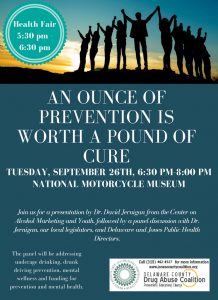 Presentation and Panel Discussion to Focus Underage Drinking, Impaired Driving, and Mental Wellness
The Jones County Safe and Healthy Youth Coalition, in partnership with the Midwest Counterdrug Training Center, and the Delaware County Drug Abuse Coalition, is proud to announce a free and open presentation followed by a panel discussion on Tuesday, September 26th, from 6:30-8:00pm at the National Motorcycle Museum in Anamosa.
The presentation will be headlined by Dr. David Jernigan from the Center of Alcohol Marketing and Youth, and an Associate Professor with the Johns Hopkins Bloomberg School of Public Health. Dr. Jernigan will touch on a variety of topics during his presentation, especially highlighting the recent strides Maryland has made in reducing alcohol-related driving fatalities, underage drinking, and overall binge drinking concerns. His insight will provide a unique opportunity for those interested to educate themselves on proven effective strategies for similar issues their communities may face.
Following the presentation will be a panel discussion comprised of Dr. Jernigan, Representative Andy McKean, and Representative Tod Bowman, as well as local health professionals Delma Hardin and Jenna Lovaas. Participants will be asked questions regarding those issues most pertinent to our area and what we as a community can do about it. This will include topics regarding mental health concerns, the methamphetamine epidemic, and underage drinking. Audience members will also be encouraged to participate with their questions as well.
Those interested in attending are encouraged to come attend the health fair just prior to the event, from 5:30-6:30pm, where local health oriented organizations will present their services. Free healthy, hearty snacks and treats will be served. For questions or comments, please contact Jennifer Husmann with the Jones County Safe and Healthy Youth Coalition by calling 319-462-4327 ext. 202 or via e-mail at jhusmann@asac.us.